City Chef Night at Liscombe Lodge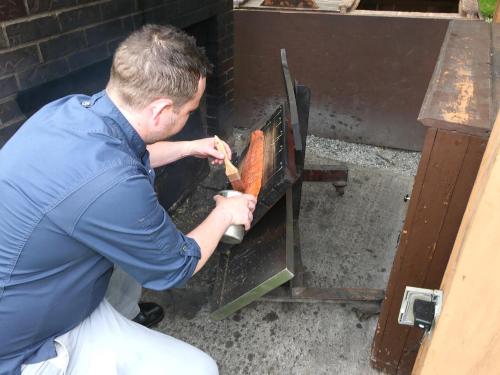 City Chef Night is happening at Liscombe Lodge on Friday July 6, 2018.

Enjoy an evening with Chef Mark Gray from The Watch Ends the Night at Kings Wharf and Liscombe's Chef Robert Reynolds.
Experience a food lover's dream with a bouquet of local flavors while viewing the bevy of nature and scenic Liscombe River with 7 courses of delicious month watering delights prepared by Chef Mark and Chef Rob.
Course 1
Little Liscombe Lobster medallion, quail egg, fiddleheads, pickled rhubarb, celery root remoulade, sumac
Course 2
Rabbit & Foie Gras "Country" Pate; Cornichon, Mustard, Pickled Pearl Onion, Birdie's Seed Baguette
Course 3
Ship harbor Mussels escabeche, crostini, garlic scape, honey, mustard greens, saffron aioli
Course 4
Getaway Farms Pork Loin (aged 45 days in smoked lard), Morels, Fava Beans, Black Truffle
Course 5
Birch smoked North River Rainbow Trout, chantreals, sweet pea, wild blueberry gnocchi, maple
Course 6
Whey Brined Lamb Shoulder, Beluga Lentils, Creme Fraiche, Ocean Persillade
Course 7
Lavender honey macaron, blackberry gel
wild strawberry sorbet & purple basil coulis
lemon cheesecake mousse with a garden pineapple mint sauce
Paired with Nova Scotia Wines and Craft Beer

This City Chef Night package includes:
One night accommodation for 2 in a room with veranda and view of the River
7 course dinner prepared by Chef Mark Gray and Liscombe Chef Robert Reynolds
Wines and craft beer paring with dinner from local winery and craft breweries
**Only $369 per couple
Book now by calling our team at 1-800- 665-6343
Add Saturday Night with Seafood Bake for only $225
Package Includes:
One night accommodation for two
Seafood Bake dinner for 2 featuring steamed mussels and clams, garden salads, fire roasted sea trout, steamed lobsters finished with local inspired desserts
CHEF MARK GRAY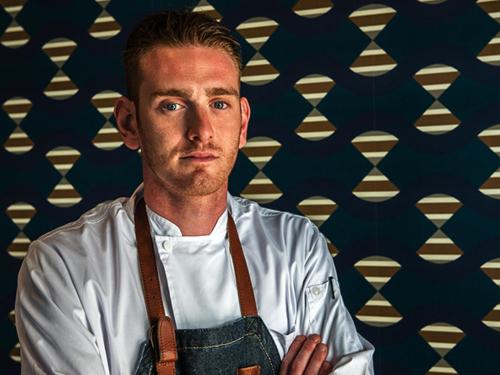 Head Chef; The Watch that Ends the Night
Dartmouth, N.S, Canada
Born in Halifax, Nova Scotia, Mark has been working in the culinary industry since the age 16.
He began his climb at the bottom, washing dishes at Il Mercato in Bedford, NS, under Chef's Maurizio Bertossi & Martin Ruiz Salvador. After graduating from high school at the age of 18, he moved west to Canmore, Alberta. There he became Sous Chef at The Drake Inn, while also working under Chef Michael Lyon at The Wood Steakhouse & Grill.
Moving back to Halifax in 2009, at age 20, Mark took the co-Executive Chef position at The Hilton Garden Inn, Halifax Airport alongside Chef Brenan Madill. After 9 months, he decided to take a step back to focus on learning the craft. It was then that he began working under Chef Graeme Rupple at The Brooklyn Warehouse.
In May 2011, at age 23, Mark earned his Canadian Red Seal Certification and also completed the Culinary Arts program at the Nova Scotia Community College, Akerley Campus. In June 2011, he became Head Chef at The Brooklyn Warehouse.
Since then, Brooklyn Warehouse has taken the titles of "Best Restaurant - Halifax" The Coast's Best of Food Awards 2012, 2013, 2014, Bronze in 2015 & Silver in 2016; "Best Restaurant – Chef Inspired Casual Fine Dining" Taste of Nova Scotia Prestige Award 2014 & "Best Restaurant – HRM" in The Chronicle Herald 2014. His second endeavor, ACE Burger Co., has taken the title of "Best Burger, Halifax", 2013, 2014 & 2015 and the newly-opened Battery Park Beer Bar & Eatery was named "Best New Bar, HRM", 2016.
Independently, Mark has also won Gold in the prestigious Gold Medal Plates regional competition, Halifax, 2016; "4th Place" in the Canadian Culinary Championships, Kelowna, B.C 2017, "Chef of the Year", 2015, Nova Scotia Association of Chefs & Cooks; "Culinarian of the Year", 2014, Nova Scotia Association for Chefs & Cooks & Bronze at the CCFCC National Senior Competition in St. John's, Newfoundland, 2015.
Currently, at age 29, Mark is Head Chef of the new restaurant in Kings Wharf, Dartmouth, NS, "The Watch that Ends the Night".